What caught my attention in week nine and ten, 2023
I was allowed to give a lecture at a conference in Stralsund on the Baltic Sea. This involved a lot of preparation, long train journeys, little time and poor internet. Therefore, I unfortunately did not get to write and publish my weekly review last week. I'll make up for that here. Nice side effect of my business trip was that I was allowed to visit two breweries.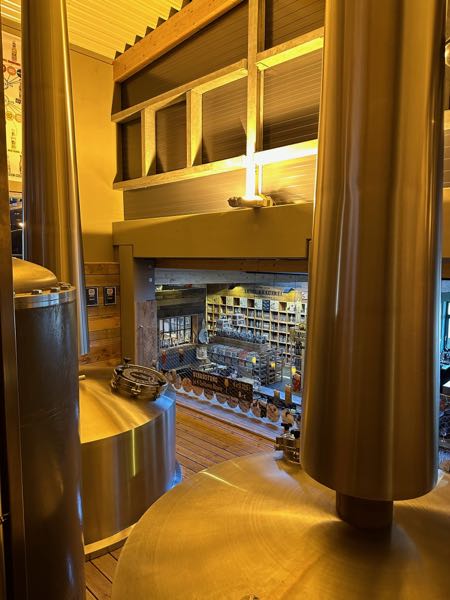 In continuation to week eight, here are a few things that caught my attention in week nine and ten, 2023:
📺 I've finished season 2 of Slow Horses (2022). What a great show. Gary Oldman as Jackson Lamb is incredible. We started watching The Mandalorian S3 as a family event and I caught up with Shrinking (2023) together with my wife. We really do enjoy this show. Ah, I caught up with Star Wars: The Bad Batch as well, and we are really looking forward to Ted Lasso S3.
🎥 No movies that last two weeks, but for sure there will be some Oscar nominees to watch in the next couple of weeks.
🐛 I am really annoyed by another iOS bug. Settings.app keeps telling me that there is an update for purchase sharing, and more or less crashes when I click on the message, only to show the warning again a few minutes later. Seems to be widespread in Germany at least.
🖼 Omg.lol Picture Sharing went live.
📊 Enjoyed this fascinating visualisation of desktop Operating Systems market share % since 1978.
📈 Bookmarked MastoMetrics but did not look into it, yet.
❤️ Maique published his awesome "Post to weblog.lol" action for Drafts.
🍻 I've learned from Adam Nowak, that it is always 5 PM somewhere.
💪 I've evaluated Gentler Streak Workout Tracker but decided, that it is not worth the money to me.
📱 Briefly looked into Classifier but I am not 100% sure, if it's worth it to migrate my SAK or LEGO minifigs collection in this nice looking database for iOS.
👨‍💻 Always interesting to read, what other people install on their new Macs. Lots of well known and loved apps there, I've mentioned in my posts as well.
📆 Entered the TestFlight for Up Ahead: Countdown Widgets. Nicely crafted, little app. Not yet sure, if I want to pay the subscription fee though.
📖 Switched from Reeder read later, to Matter, to Omnivore. All these apps are kind of dead silos for me. I accumulate a lot of stuff that I want to read, but then don't. So it's good to switch services regularly, this way the pile doesn't get quite so big 🤣
💎 Sindre Sorhus is incredible. In fact, every app he makes is fantastic. A new addition is Aiko, which is a lighter alternative to the also great MacWhisper by
🖱️Installed CenterMouse by Isaac Halvorson.
🔗 Still using Anybox as my main bookmark manager. Interlink beta did not make much progress in the last weeks. If it was released as it is right now, I won't switch. But I've looked into the new beta of Raindrop.io. Even the free tier seems very appealing to me.
🐘 There is another iOS Mastodon client on TestFlight called Pipilo.

An app where you horizontally navigate between posts from your timeline. The posts are grouped into threads when replies are detected. It's designed that way so you can read every single post but also quickly skip threads that don't interest you.

🕵️‍♀️ Speaking of privacy, as mentioned before, I am really happy with Typinator for macOS, but Espanso - A Privacy-first, Cross-platform Text Expander might be an option as well.
🎮 Lots of new stuff for my Playdate

I've bought two new Indie games on itch.io:

📮Post Hero: Nice, little adventure game by Scenic Route Software. In fact, the first game I played all the way through on Playdate. An incredible amount of dedication has gone into the game, and the accompanying booklet, complete with map and hints, are also lovingly made. The developer is also extremely friendly and helpful. I was very happy to spend the money.
🐶Dungeons and Doggos by PizzaFuel: Doodle Jump clone for Playdate.

New Playdate Series 1 games for me
🌱 Illumination is an interactive mini-comic for Playdate. Really well made. It is more or less a demo for The Botanist, an interactive sci-fi adventure for Playdate. And the latter is also available on
📖 Catalog: A curated collection of Playdate things, that was finally released last Tuesday 🥳.

🏂 I've bought Carve Jr! by Chuhai Labs. They made Whitewater Wipeout, I really liked. But Carve Jr! seems a waste of money so far. It feels like it's running with the handbrake on and brings me absolutely no fun.
🚵‍♀️ Grand Tour Legends by IORAMA looks impressive, feels like an awesome tech demo and is fun. I've been trying for some time to make up the missing three to five seconds to make it into the rankings. I'm afraid that's going to be more difficult than it seems 😅.
👻 Down the Oubliette by RDK is awesome. So far the best money spent on a catalog game. Really enjoy this "dungeon crawler for people who like tower defense games".

😢 Unfortunately, it seems that my Playdate is indeed defective. I had after a few weeks of rest suddenly again massive battery problems. Also, the console sometimes crashes every few seconds even in standby. In the meantime, I have also received an answer from Panic Support and may now send my console back to America for replacement. I hope this won't take several to ship years like the first order.

🎙 Lots of podcast listening: ATP: 524, 525; Automators: 122: Nerding Out with Allison Sheridan; Core Intuition; Hello Playdate Podcast: Episode 01, Episode 04, Episode 07, Episode 09, Episode 10, Episode 22 - Top 10 Games of 2022, Interview 01 - Christa Mrgan; Hemispheric Views: 079: Five Percent Mildly Annoyed!; Launched: 57: Posture Pal - Jordi Bruin; Playdate Podcast: Sasquatchers, Snak, Spellcorked and Inventory Hero (Special Format!); The Talk Show: 369: '18-Hour Bombing Mission', With Marco Arment; Upgrade: 448: I'm Choosing Optimism, and 449: Dynamic Submarine.